Closers & Hinges Mississauga
We provide quality door closers & hinges in Mississauga since 2010. Our focus is to deliver excellence to every customer through quality services. Get a quote today or call us (416) 253-9615!
Are your residence doors making a creaking sound while closing? Do you think the door hinges risk falling due to any forced entry recently?
Door Closers
Door closers are the basic hardware which are used to control and operate the speed with which a door opens or closes. The placement of a door closer is typically at the top of the door, very close to the door hinge. The door closer also controls the opening and closing mechanism of the door. There are newer doors that come with hydraulic devices with springs to regulate the opening and closing of the doors.
Door closers are typically found in commercial establishments, offices, schools, industrial settings and restaurants. They come in a variety of mechanisms from the simple styles to more advanced versions.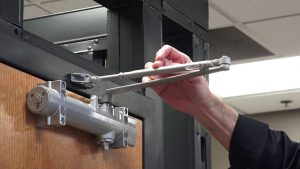 A door closer is specially made for each door and its planned usage. You should consider a number of factors at the time of choosing the most suitable door closer including:
Door's weight
Door's material
Door's traffic frequency – low, medium or high
Door's installation requirement – standard, parallel-arm, top jamb
Door closer, desired functions – delayed, backcheck, latch speed
Choice of door finishing and color
Door Hinges
Door hinges are specific devices attached to a door that help to swing the door in different directions. Finding the perfect door hinge can be complex to understand and then purchase. Owing to the immense array of door hinges available in the market, you may be flummoxed at the time of purchase.
Hinges help to increase the door's durability and sturdiness apart from achieving equal distribution of the door's weight. Easy to install on the door, they can instantly revamp the look of your home with their presence. Once you purchase the right door hinges, do take care to install them professionally to ensure the door's durability.
Door Hinges come in four different kinds which are full-mortise and half-mortise, full-surface and half-surface. Since the various types of door hinges require different leaf placements, contracting a professional and knowledgeable door repair company is recommended. Door hinges come in many finishes such as copper, steel and aluminum. The best kind and finish of the door hinge can be chosen to complement the design and décor of the house and furniture. The other door hinge variations include rust-resistant, primed, polished finishes with the availability of different sizes.
Call us today to have the best and professional installation with the highest quality of door closers and door hinges.