Emergency Door Repair Mississauga
We provide quality emergency door repair in Mississauga since 2010. Our focus is to deliver excellence to every customer through quality services. Get a quote today!
Do you want to get your main door security systems replaced following last nights' forced entry? Are you thinking of getting the door repaired after the immense snowstorm which happened early morning?
Emergency door repair
The prompt and immediate response is guaranteed when you call us for emergency door repairs issues. If you can see rainwater coming inside the kitchen door, we can help to repair it. For wobbly patio doors, our expert technicians will carefully repair them so that the problem is no more present.
24hr door repair
We have a fast and immediate team of technicians who are specially trained to resolve all types of door repair issues. 24-hour door repair service is our speciality, and we are committed to reaching your place within 15-25 minutes of receiving the emergency call.
Did your garage door get jammed? Do you want to get the main door locking mechanism changed and improve its security?
Just put our 24-hours number on speed dial, and we will respond to you asap. We have a customer service team manning the phone lines to ensure fast responses. Get in touch with us if you need emergency door repair in Mississauga.
Emergency glass replacement
For any emergency glass replacement services, you may need in Mississauga and surrounding areas; we will provide prompt repair, installation and replacement services. We can do it starting from glass doors, patio doors or glass windows. If you have a situation with old glass, broken glass in a residence, commercial office or a storefront, we will tackle the issue and resolve it immediately. All our standard and emergency services are prompt, professional and affordable.
Frame repair, Kick proof plates
You may be facing an emergency situation regarding the door frames in your home or office. Just keep our 24-hour phone number on your smartphone and give us a call. We will handle any emergency situation and help you get back to your work quickly.
Ditch all your worries once you see our expert technicians in action. Our trusted door repair and locksmith services are patronized by thousands of Mississauga residents who have entrusted us with their homes, offices and stores' security.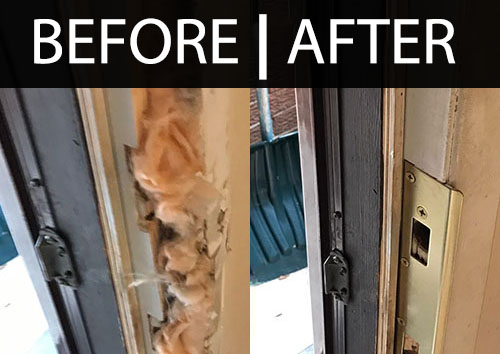 We can also do all accident, vandalism and forced entry related door issues. If you have issues with jammed door hinges, broken wooden door frame, broken door or sliding patio doors, our knowledgeable technicians coupled with the latest technology will help resolve all such issues for you.
Were you at the receiving end of door damage due to break-in, forced entry, damage due to snow, rain, natural disaster, water or hailstorm. Once we do the necessary repair, we can handle regular door maintenance to make sure of the door durability for the long term.

Frequently Asked Questions
Do you provide same-day door repair service?
How often should I have a door service?
Why do customers choose your company?
Should I repair my door by myself?
Do you install new doors?