Sliding Door Repair North York
We provide quality sliding door repair in North York since 2010. Our focus is to deliver excellence to every customer through quality services. Call us and get a quote today!
Sliding doors are specialized types of doors. The placement, installation and servicing of sliding doors are highly complicated and need an expert sliding door technician to thoroughly understand your specific requirement and a customized sliding track which is present at the base of each sliding door.
Highly expert technicians would be needed for installing and replacing sliding doors. Typically a sliding door has a dedicated sliding track that allows the sliding door to move in different directions. It is also possible to make a sliding door move in one direction only.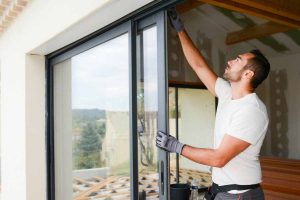 Sliding doors have the potential to augment the look and feel of any area, though they are majorly found in commercial and residential locations. They are made from wood, fiberglass and glass and are typically installed at exit and entry points.
Adequate servicing and repair of sliding doors are essential to rule out any circumstances which can turn into safety hazards for the occupants of the home. The services included in the Sliding Door range include:
Sliding glass door repair
Sliding & Patio Door Repair
Track repair and installation
Sliding & Patio Door Replacement
Sliding & Patio Door Installation
Broken & Patio Rollers Replacement
Sliding & Patio Door Locks
Removing a Sliding Patio Door
You may require replacing or removing rollers that are embedded inside the tracks of a sliding door.
For all repairs, it is essential to get the door repair professional to check the sliding door patio and then perform the necessary repairs.
We are your door service experts who are adept in the service and installation of all kinds of sliding doors.
As a dependable North York door repair company, you can relax freely in the knowledge that all our technicians are bonded, licensed and insured to do their job.
Connect with us today and keep your home and its contents safe.

Frequently Asked Questions
Do you provide same-day door repair service?
How often should I have a door service?
Why do customers choose your company?
Should I repair my door by myself?
Do you install new doors?