Residential Door Repair Oakville
We provide quality residential door repair in Oakville since 2010. Our focus is to deliver excellence to every customer through quality services. Get a quote today!
You may need door repair in your home because of a number of reasons. Your main home entrance door may have gotten compromised in last night's snowstorm? You may be planning to move to a new home and need to change the locks of the entrance and change the door to enhance its safety.
We understand that receiving the highest quality services for your home, and its assets are your priorities and hence strive to give quality with affordability every time. In residential door repair, we provide many services like the below:
Door Rollers & Tracks
Door Locks & Handles
Repair & Replace Rotted/Damaged Door Frames
Repair & Replace Door Hinges and Handles Broken Sliding Doors
Fix Door Weather Stripping
Correct Door Jams / Door Sticking
Repair Broken Dead Bolts & Door Locks
Wooden & Aluminum Patio Doors
Door Safety mechanisms installation and repair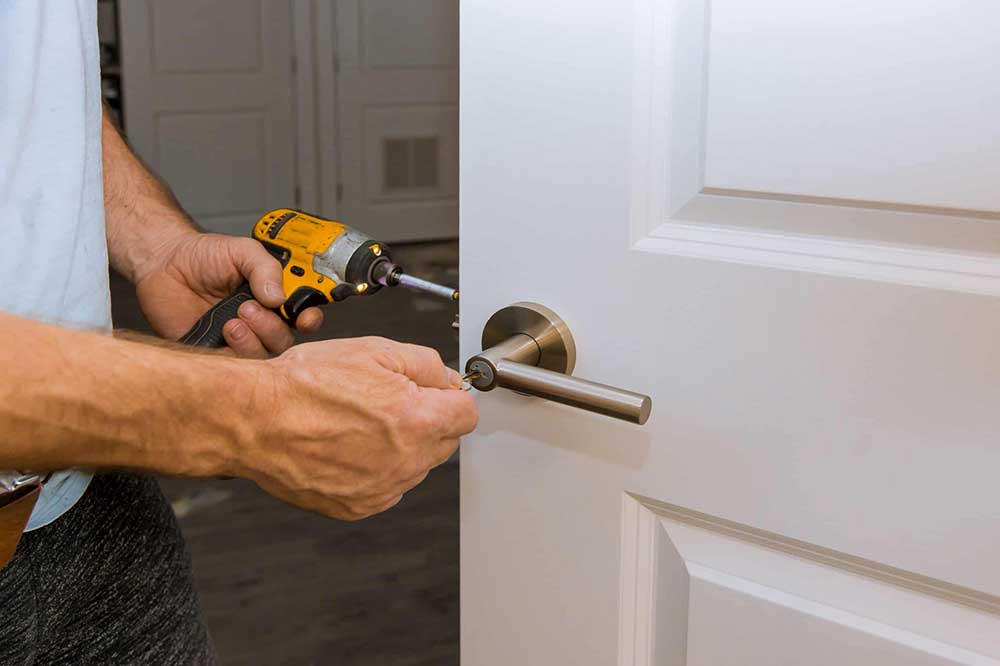 Wood, Steel, Fiberglass Door Repair, Reinforcement and Replacement
Whether you are planning to install or repair a steel, wood or fiberglass door, we are equipped to provide you with the requisite service. There is not a single door repair issue that our experienced technicians cannot resolve for you. We will be at your service to provide all kinds of residential door installation, service, repair, reinforcement services.
We can provide all types of residential doors, accessories and replacement parts as per your requirements. Everything related to doors is available in our inventory, and we have the talented technicians to make your needs and wishes come true exactly in the manner that you would like.
Locks and Handles
Locks and handles are associated services that we provide along with our door repair services. It happens many times that a door repair or an installation requires a locksmith to be present. In all such situations, we act as your full-service door and locksmith company. We have skilled locksmiths in our team who are experts in fulfilling the entire range of lock repair, replacement and servicing needs. The locksmith and the door repair teamwork in tandem to provide excellent wholesome service to you every time.
In Oakville, we have been a reliable service provider for all residents of Oakville for decades. Our quality service and affordable prices have provided us with our valued customers who have been consistently coming to us for years, don't hesitate to email or call our company.

Frequently Asked Questions
Do you provide same-day door repair service?
How often should I have a door service?
Why do customers choose your company?
Should I repair my door by myself?
Do you install new doors?